🚚 FREE SHIPPING WITHIN 2-3 BUSINESS DAYS
Meet the BURN-E 2, the more affordable version of the innovative Burn E 2 Max from NAMI*. Get the same phenomenal ride quality and feature set with a lower power profile and longer range at a much lower price point. Developed based on community requests and feedback, the BURN-E 2 eliminates the weak points of other scooters in the ultra-high performance category and delivers a smooth, powerful and safe riding experience.
Two 1000W motors with a peak output of over 5000W in combination with the sinwave controllers deliver thrilling acceleration up to 45mph. Equipped with a large 72V 28Ah battery, the BURN-E can reach a maximum range of 90 miles (constant 18mph, 160 lb rider) and a real world tested range of over 60 miles.
The LOGAN full hydraulic 160mm disc brakes, combined with the integrated electric brake with adjustable intensity, will offer reliable handling and strong stopping power.
Paying specific attention to the community, NAMI integrated innovative technology in its newest scooter. The BURN-E features a large, waterproof smart display which lets riders adjust many settings according to their preferences. You can choose between 5 different ride modes including turbo mode for extra power and fun. On top of that, you can independently adjust the acceleration strength of the front and rear motor and the intensity of the electric brake.
Two adjustable 165mm hydraulic coil-shock suspensions and 11-inch tubeless 90/65-6.5 tires (off-road tires available separately) make for a smooth ride in any terrain. A powerful 2000 lumen headlight, side LED strips and a rear brake light are part of the all-round lighting system for a safe commute in the dark.
High-quality parts from its core to the details make the BURN-E one of the most interesting scooters in its class.
A heat-treated aviation grade welding frame in one piece, a full carbon fiber steering column and polished stainless steel parts give the scooter its robust structure, designed for high speeds and durability.
Weighing just under 100 lb, the BURN-E is a bit lighter that comparable models in its class and has a newly designed wobble free folding mechanism which allows a relatively compact transportation.
* Improvements vs the original Burn-E:  added waterproof motor connectors for better serviceability, improved charging ports, includes 5A charger, improved turn-signals, wider 27 inch handlebar.
45 mph
90 miles
2x1000W
72V 28Ah
100 lbs
Best ride quality with fully adjustable hydraulic shocks and most intutive handling
IP55 waterproof, full lighting package for safe riding in traffic, long range!
Free Shipping
Scooters Ship Free within the Continental US
12m warranty
Plus Lifetime Service (Parts 50% Off for Your Scooter)
us-based
Friendly Service and Support
pay as you ride
Select Affirm for affordable monthly payments
SUSTAINABLE
You Go Green and We Plant Trees
15 Day Returns
Return Your Unused Scooter Within 15 days of Delivery
Sale price

$3,699.00

Regular price

$3,699.00
Features
The BURN E is the Most Innovative Ultra Performance Scooter Ever Built
SPEED AND PERFORMANCE

Two powerful 1000W motors deliver thrilling acceleration up to 45mph. The two smooth sinewave controllers put you in full control: Start up in walking speed or accelerate up to 45mph. While rated at 30A, the controllers output up to 40A during acceleration.

BEST RIDE QUALITY

All reviewers agree that the Burn E convinces with the smoothest ride ever tested. The hydraulic shocks in combination with the large 11" tires let you glide along any road condition. You will be surprised how slow 40 mph can feel on a scooter.

HIGH QUALITY BUILD

Engineered with a hand welded one-piece aluminum frame, a full carbon fiber steering column and polished stainless steel parts, it is beautiful to look at and incredibly durable for high speeds. The tall sitting and wide handlebars make this scooter ultra comfortable for long rides and taller riders.

CUSTOMIZABLE PERFORMANCE

The smart display includes 5 different riding modes that are fully customizable by the rider, including independent settings for front and rear motor torque, electric braking strength, acceleration etc. Key performance metrics like remaining range, controller temperature, even G force, are available on demand.

ULTRA LONG RANGE

This beast comes with a 72V 28 Ah battery and has an astonishing real world range of over 60 miles and an optimal range of 90 miles (constant speed of 15mph, 165 lb rider). The Burn E 2 uses high quality cells from reputable Chinese manufacturer.

MOST PORTABLE IN ITS CLASS

At just under 100 lbs it is not made to carry around. However, the innovative and intuitive folding mechanism lets you collapse the stem in 10 seconds. Lifting is surprisingly easy with two hands.
fluidfreeride rating
portability

higher scores mean higher portability: lower weight & smaller footprint when folded

Heavy & Bulky

Ultra Portable

Power

higher scores mean higher power: stronger acceleration & higher topspeed

Range

higher scores mean longer range: the amount of miles you can go on a full charge

RIDE QUALITY

higher scores mean better overall ride quality due to better suspension systems and larger tires (also better off-road capacity)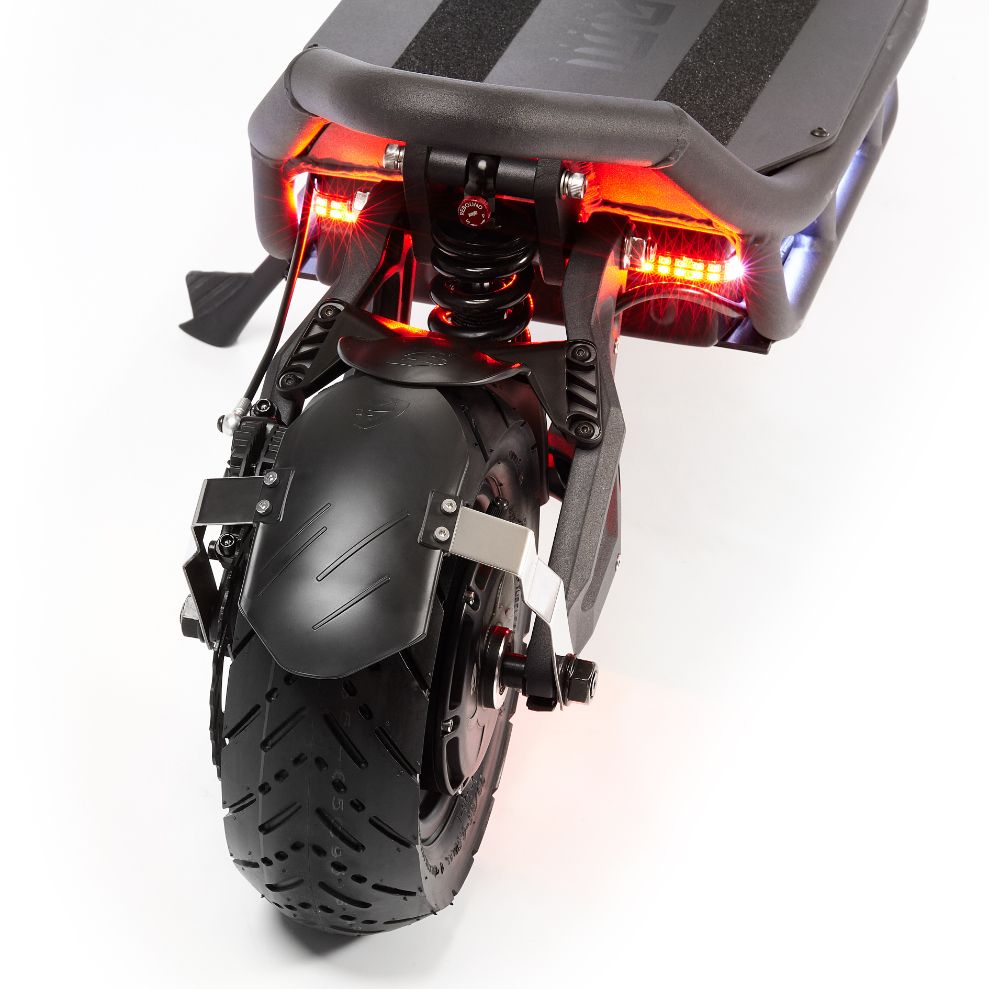 SAFETY FIRST
The Burn E Ticks All the Boxes
LOGAN full hydraulic brakes with 160mm rotors deliver reliable and direct stopping power
Best in class lighting package with 2000 lumen headlight, lateral LED strips, bright rear light, and turn signals ensure safe riding in traffic day and night.
With and overall IP55 rating, the Burn E can be ridden during any weather. Key components like display, controllers, and connectors are IP67.
GUARANTEED SATISFACTION
Innovative Technology for the Best Ride Quality
The ride on the Burn E is beyond smooth thanks to the full hydraulic adjustable suspension system. With just the turn of a dial you can set up the rebound to your liking: highly dampened for high speed on road, or more bouncy for off-road applications. The best part, unlike many competitors in this category, the scooter is highly intuitive in handling and controls. The controllers can deliver buttery smooth acceleration or pack insane punch, all directly controlled with your thumb.
PAUL, ELECTRIC-SCOOTER.GUIDE

"You will not find better ride quality than this at any price."

"The BURN-E 2 is for riders who enjoy the rarity, long-range, and the ride quality of a hand-built, premium-scooter but are willing to forego a name-brand battery and eye-watering top speed to save fourteen hundred bucks. I'm honestly shocked at how good this scooter is for the price. This is the coolest scooter you can buy for about thirty-five hundred dollars. Basically, it's the Ferrari of scooters at a Lexus price. " Read Full Review
Explore the NAMI Burn-E
Ride in Any Condition
The best in class lighting package includes an ultra-birght front headlight and lateral/rear LED strips that ot only ensure that you will be seen at night but also double as turn signals and bright rear brake light.
And if it rains? No worries, the Burn-E is IP55 waterproof rated.
Control At Your Fingertips
Sleek centered display with all riding information available to you. Advanced customization options for 5 fully customizeable modes for speed, electric braking, individual motor torque and much more...
Easily accessible switch for lights, turn signals and horn on your right and gear switches on your left. Toggle pre-configured turbo mode to tease out an extra 10% of performance when you need that extra bit of torque and top speed.
High Performance - Still Portable
All that performance comes at roughly 100 pounds of weight. You can still fold down the steering column quickly with the custom designed rattle-free folding mechanism.
And thanks to the Burn E's hand-welded tubular aluminum frame, you can still pick up your scooter to carry it up a few stairs or lift it into your trunk to gon adventures further away from home.
Phenomenal Suspension for a Smooth Ride
The adjustable hydraulic suspension can be set up stiffly for higher speed on road rides or with more rebound for more tricky off-road applications.
The Burn E can tackle all reasonable ground conditions. Off-road tires recommended for more advanced off-road use.
Commute & Adventure
The Burn-E is designed to be your preferred (and most fun) mode of transportation.
Commutes through your city, extended overland rides, or just for fun on grass and trails...
How it Compares
The BURN E 2 is the scooter with the best ride quality and handling characteristics we have ever tested
ALTERNATIVES:
- same features and frame, higher power with 50A controllers and 1500W motors, 32Ah battery: BURN E 2 MAX
- similar power profile, dual front stem design: WOLF GT PRO
- very high ride quality, better portability but lower power, similar intuitive handling without all the customization options: OXO


Power
2 x 1000W base / 5040W peak
Battery
72V 28Ah (2160 Wh)
Drive
front & rear wheel drive
Suspension
adjustable front & rear hydraulic coil-shock suspension
Charging Time
6-7h with incl. 5A charger, 3h with 2 opt. fast chargers
Physical Brakes
dual disc (LOGAN 2-piston full-hydraulic)
Electric Braking
adjustable regen. braking
Lights
ultra bright front, side and rear LED + turn signals
Display
feature-loaded color smart display
Since range of electric scooters varies greatly by riding style and rider weight, here are some examples for this particular model so you can judge:
90 miles
Optimal Conditions (165 lb rider, 15 mph constant speed)
This is the range you can get under optimal conditions. Usually manufacturers quote this type of range. We expect real world range to be lower since you will not go at constant slow speed.
62 miles
Real World (165 lb rider, normal riding)
This range has been tested by NAMI mastermind Michael Sha under real world conditions. 28 mph average(!) speed, some uphill.
RECOMMENDED GEAR
Accessories
Customer Reviews