🚚 FREE SHIPPING NEXT BUSINESS DAY
The Kaabo Mantis has been a staple of the scooter industry for years. Kaabo has come back this year with a brand-new take on a fan favorite. The new Kaabo Mantis King GT is that next step forward in terms of design and performance. Thrilling dual motor acceleration up to 43 mph top speed, 56 miles range under optimal conditions, adjustable dual suspension, a sturdy chassis, and an all new cockpit with a bright center console display make a the GT a contender for the best performance scooter on the market. 
Starting from the ground, the original Mantis has been redesigned. The Kaabo Mantis King GT now comes with wider 10" x 3" pneumatic tires, available in street and off-road configuration. These great new tires are wrapped around dual 1100W hub motors that deliver 4200W peak output in combination a pair of 60V 30A sinewave controllers. These controllers are not only more powerful than the outgoing PRO model but much smoother as well with their increased signal refinement for controllable and smooth acceleration. 
These power-hungry controllers draw off an equivalently capable 60V 24Ah battery with 21700 Samsung cells,  promising a  tested 37 mile range under real world conditions. This is the type of distance perfect for a hardcore commuter looking to ditch the car and public transportation or a recreational rider looking for an entire day worth of adventure. Not only can your ride take you wherever you want to go but it can also happen during most weather conditions with the Mantis King GT coming with an IPX5 water resistance rating.

The dual suspension is fully adjustable for rebound and preload and is a first for this class of scooter. It converts the Mantis King GT from off-road scalpel to rugged commuter to high speed racer, depending on user setup. The excellent handling characteristics are bolstered further by an all new super secure double action rigid folding mechanism found at the base of the stem.
The scooter comes in at a weigh of 74 pounds, while being strong enough to support up to 265 pounds. The deck itself is slightly longer and wider than the previous models which just adds to rider comfort. Ground clearance is also boosted to 5.8 inches offering the ability to clear a large variety of obstacles both on and off road. 
Moving up to the now wider 660mm stability enhancing handlebars we find best in class user controls which include horn, turn signals and lighting. The light control activates all the lighting at once. These include a high mounted bright LED headlight which increases rider safety and visibility, bright deck button lights, and app programmable RGB lights on the side panels. The turn signals activate separate led button lights in the deck which indicate your intentions both front and rear and can be used as hazard together. The horn button engages the loud electronic horn housed in the headlight unit.
The star of the show is the 4.2" TFT display which is bright enough to be read in direct sunlight and offers riders and astounding array of information about their scooter, how it is currently functioning and access to adjustments to tailor the Mantis King GT's power to their riding style. 
Available with street and off-road tires. 
FREE SHIPPING
43 mph
56 miles
2x1100W
60V 24Ah
74 lbs
A heritage of reliability coupled with the latest in scooter tech creates an mean, lean riding machine.
Beautiful bright display packed with information and easy-to-reach controls.
Free Shipping
Scooters Ship Free within the Continental US
12m warranty
Plus Lifetime Service (Parts 50% Off for Your Scooter)
us-based
Friendly Service and Support
pay as you ride
Select Affirm for affordable monthly payments
SUSTAINABLE
You Go Green and We Plant Trees
15 Day Returns
Return Your Unused Scooter Within 15 days of Delivery
Features
Versatility and Refinement for Riders Who Want That Edge
POWER AND CONTROL

The dual 1100-watt brushless motors with peak output of 4200W provide a top speed of over 43 mph with buttery smooth control thanks to the 30A sinewave controllers.

ADVANCED FRAME DESIGN

The strong aluminum frame features an all new super secure folding mechanism, better ergonomics for foot positioning, built in full range lighting, and increased suspension capacity.

LONG RANGE

Count on a realistic Electric Scooter Guide tested range of 37 miles. If you take it slow, you can expect up to 56 miles under optimal conditions.

MODERN SUSPENSION

The front and rear hydraulic shocks are both preload and rebound adjustable so you can adjust your scooter to your riding style.

POWERFUL BRAKING SYSTEM

Full hydraulic brakes in combination with the optionally enabled ABS system provide for safe and accurate braking power.

LED LIGHTING SYSTEM

Powerful all LED lighting: dual front deck mounted button lights and a high mount main headlight illuminate even the darkest conditions. Built in side RGB light strips, Separate bright turn signal lights and rear deck mounted button lights ensure optimal visibility from any direction.
fluidfreeride rating
portability

higher scores mean higher portability: lower weight & smaller footprint when folded

Heavy & Bulky

Ultra Portable

Power

higher scores mean higher power: stronger acceleration & higher topspeed

Range

higher scores mean longer range: the amount of miles you can go on a full charge

RIDE QUALITY

higher scores mean better overall ride quality due to better suspension systems and larger tires (also better off-road capacity)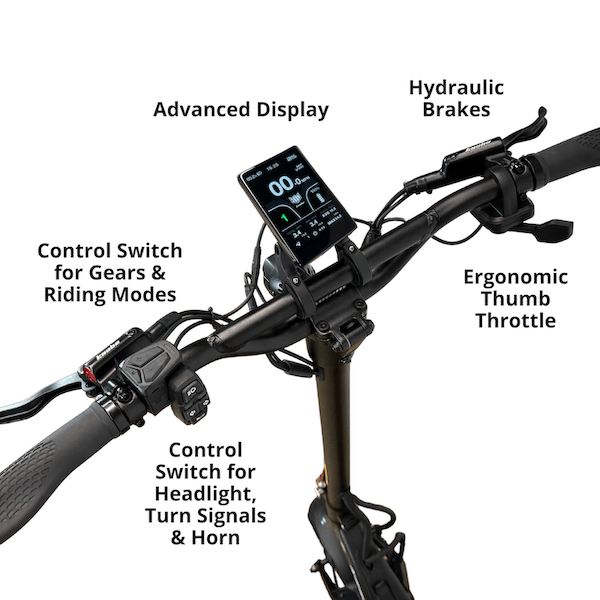 The Latest and Greatest
Modern Cockpit for the Modern Rider
4.2" easy-to-read TFT display with tons of information
Full hydraulic brakes for full control
Full lighting package for 360° visibility
Town and Country
Change Your Trip, Not Your Scooter
With the Mantis King GT you can take your ride from everyday commute to light trails with the utmost confidence. The 5.8" of ground clearance and preload+rebound adjustable suspension enables you to adjust the ride for sure-footedness on almost any terrain. You can also use the programmable ride modes to change the characteristics of how the power comes on to hit that perfect sweet-spot.
Electric Scooter Guide, 2022

"Best Mantis Yet"

"The Mantis King GT does everything really well, braking, acceleration, smoothness, top speed, range, and just look at it. Our wish list for 2022 had a lot of things on it: better IP ratings, better displays, thumb throttles, hydraulic suspension, sine-wave motor controllers, and more 21700 battery cells. The Mantis King GT just checked all of those boxes. "
How it Compares
The Mantis King GT is a versatile road and trail champ that adjusts itself to you, not the other way around.
ALTERNATIVES:
- more off-road oriented, smooth sinewave controller, more aggressive styling: WOLF WARRIOR X GT
- comfortable ergonomics, easy folding, more relaxed ride: APOLLO PHANTOM V2
- longer range, heavier duty suspension, more deck space: BURN-E 2
Power
2x 1100W base / 4200W peak
Battery
Samsung 60V 24Ah (1440 Wh)
Drive
front & rear wheel drive
Suspension
front and rear adjustable hydraulic shocks
Charging Time
7-8h with 2 incl. chargers,
Physical Brakes
dual disc (Kabbo branded full-hydraulic)
Electric Braking
adjustable regen. braking
Lights
ultra bright front upper and lower / adjustable side/ rear LEDs + turn signals
Since range of electric scooters varies greatly by riding style and rider weight, here are some examples for this particular model so you can judge:
56 miles
Optimal Conditions (165 lb rider, 15 mph constant speed)
This is the range you can get under optimal conditions. Usually manufacturers quote this type of range. We expect real world range to be lower since you will not go at constant slow speed.
36 miles
Real World (165 lb rider, aggressive riding)
This range has been tested by electric-scooter.guide under real world conditions. Quick acceleration, multiple stops, some inclines. All ESG range tests are done by the same rider and on the same circuit.
RECOMMENDED GEAR
Accessories
Customer Reviews