🚚 FREE SHIPPING NEXT BUSINESS DAY
Classic design and ultra reliable, this all round electric scooter is the perfect choice for urban transport. It comes with a 10.4Ah battery for 23 miles range or the larger 13Ah long range battery that will last for up to 30 miles!

The 48V 500W brushless hub motor delivers a max output of more than 800W to tackle up to 15% inclines and promises a top speed of up to 25mph. Rear drum brake plus regenerative braking deliver an efficient ride.
Front and rear suspension promise a smooth ride. It can be taken on a train or stored away quickly with the perfectly designed folding mechanism.
This is a true all round talent: three powerful front and two rear LED lights will light up the night, extra long mudguards will protect you from splashing water, its advanced display throttle combination enables a multitude of customizations to make this the perfect companion for your commutes.
Now available in the updated version 2, with improved waterproofing, thumb throttle for a more effortless riding experience, and pre-installed carrying handle for improved portability. Check out the optional trolley wheels for even more versatility.
Select version and battery size before adding to cart!
FREE SHIPPING within continental US!
23 mph
23 miles
500W
48V 10.4Ah
42 lbs
Best value electric scooter for all-round applications
Recommended first scooter pruchase: Highly Portable, Smooth Ride, Long Range!
Free Shipping
Scooters Ship Free within the Continental US
12m warranty
Plus Lifetime Service (Parts 50% Off for Your Scooter)
us-based
Friendly Service and Support
pay as you ride
Select Affirm for affordable monthly payments
SUSTAINABLE
You Go Green and We Plant Trees
15 Day Returns
Return Your Unused Scooter Within 15 days of Delivery
Features
Best All-Round Commuter Scooter in its Price Range
THE BEST HORIZON YET

The urban electric scooter with improved design, upgraded hydraulic rear suspension, more power, and improved anti splash mud guard.

POWERFUL AND FAST

The rear 48V 500W scooter motor with a 20A controller delivers max output of >800W, top speed of 23-25 mph, and tackles up to 10% inclines.

WELL BUILT

Classic design with durable materials make for a durable and long lasting electric scooter.

LONG RANGE

The high efficiency Li-ion battery delivers a range of up to 23 miles (10.4Ah) or 30 miles (13Ah).

PORTABLE

Handlebar and the front stem fold down quickly to take the scooter on a train or store away at home. 40 pounds can still be carried with ease.

LOADED WITH FEATURES

Bright LED head and tail lights, regenerative braking, advanced display throttle combination with loads of info and customizations.
fluidfreeride rating
portability

higher scores mean higher portability: lower weight & smaller footprint when folded

Heavy & Bulky

Ultra Portable

Power

higher scores mean higher power: stronger acceleration & higher topspeed

Range

higher scores mean longer range: the amount of miles you can go on a full charge

RIDE QUALITY

higher scores mean better overall ride quality due to better suspension systems and larger tires (also better off-road capacity)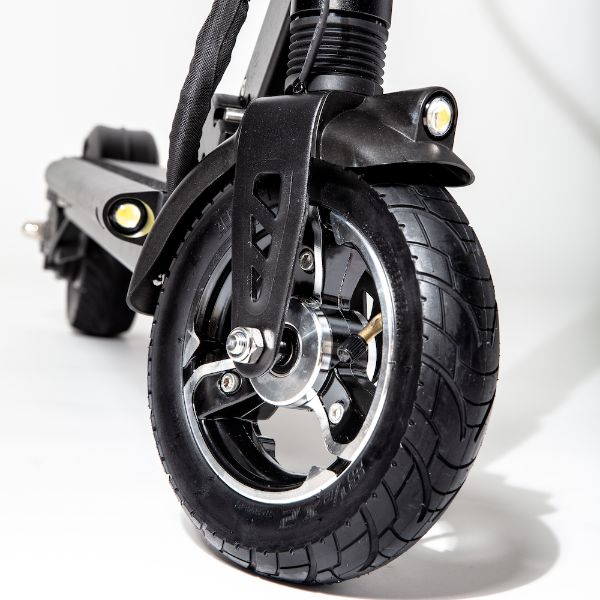 HIGHLIGHTS
Best Value Commuter Scooter
all round talent at affordable price
23+ mph top speed & up to 30 miles range
Sleek all-black design
Use Case
Portable Scooter For Inner City Rides
The fluid Horizon is a versatile all round talent, making it perfect for scooter beginners. A 500W motor and large battery deliver great performance and make the Horizon the best scooter in its price range. Front and rear suspension allow a smooth ride through the city and the quick folding mechanism lets you easily carry the scooter on a bus or train.
Explore the fluid Horizon
Most Reliable in the Rain
While we did not invest in an IP rating for the Horizon, it is the scooter from our portfolio that has the least problems with water damage. The display is IP66 rated. The two fenders do an excellent job in keeping the water down. And the deck openings are protected with silicone.
Intuitive Cockpit
The display with three riding gears allows for ample customizations such as zero start and cruise control. It comes with a smooth to operate thumb throttle.
The maintenance free rear drum brake is effective and triggers brake lighting.
Triple front and dual rear LEDs ensure good visibility at night. We recommend a handlebar height headlight like the fluid flash for extended night rides.
Best in Class Portability
The grip above the rear wheel allows for an easy pick up of your scooter without foling it down.
The scooter folds down in seconds, the steering column locks in place for easy one-handed carry. For a minimal footprint you can collapse the handlebars as well.
Dual Suspension
In this price range, dual suspension is a rarity. The Horizon delivers a smooth and stable ride even on rougher road conditions.
For an optimal stance, yu can adjust the handlebar height to your liking. And you can use the rear handle as your foot rest.
Classic Design
The matt black finish with subtle branding makes for an understated look.
It's rather classic in design but due to its oustanding reliablity with many riders reporting thousands of miles, we are shying away from changing any of the proven components.
How it Compares
The Horizon is our best selling all-round commuter scooter. It is more powerful and has better ride quality than a rental scooter
ALTERNATIVES:
- on a tight budget and ok with lower range and less speed? CITYRIDER
- nicer design and 10 lb lighter, check out the LIGHT2
- an all-rounder in the next higher category, check out the EXPLORE
Power
500W base / 800W peak
Battery
48V 10.4Ah (499 Wh)
Tires
8" rear solid, 8.5" front air
Suspension
front spring & rear dual spring
Charging Time
5-6h with incl. charger
Physical Brakes
rear drum brake + regen
Electric Braking
adjustable regen. braking
Lights
front and rear LED
Throttle
trigger throttle
Display
QS-S4 (on throttle)
Since range of electric scooters varies greatly by riding style and rider weight, here are some examples for this particular model so you can judge:
30 miles
Optimal Conditions (165 lb rider, 15 mph constant speed, 13Ah variant)
This is the range you can get under optimal conditions. Usually manufacturers quote this type of range. We expect real world range to be lower since you will not go at constant slow speed.
RECOMMENDED GEAR
Accessories
Customer Reviews